Ceramic Water Filtration System
By combining the highly successful modular structure of Miracell with state of the art ceramic membrane technology, Miranda is able to offer ultrafiltration level treatment and filtration all in one combined module to the much needed water treatment applications around the world. 
The offered product is able to address the wastewater treatment needs of our customers with the added benefit of recycled water for a multitude of secondary water requirements such as irrigation, construction water, dust settlement applications etc. 
Not only for the wastewater treatment needs but also as the pre-filtration requirement ahead of the reverse osmosis application needs in various industrial segments can also be met by Miracem. In this particular segment well water, brackish water, potable water as well as industrial water applications that require clean purified reverse osmosis water can be addressed. 
Miracem is the latest innovation offered to the environment by Miranda.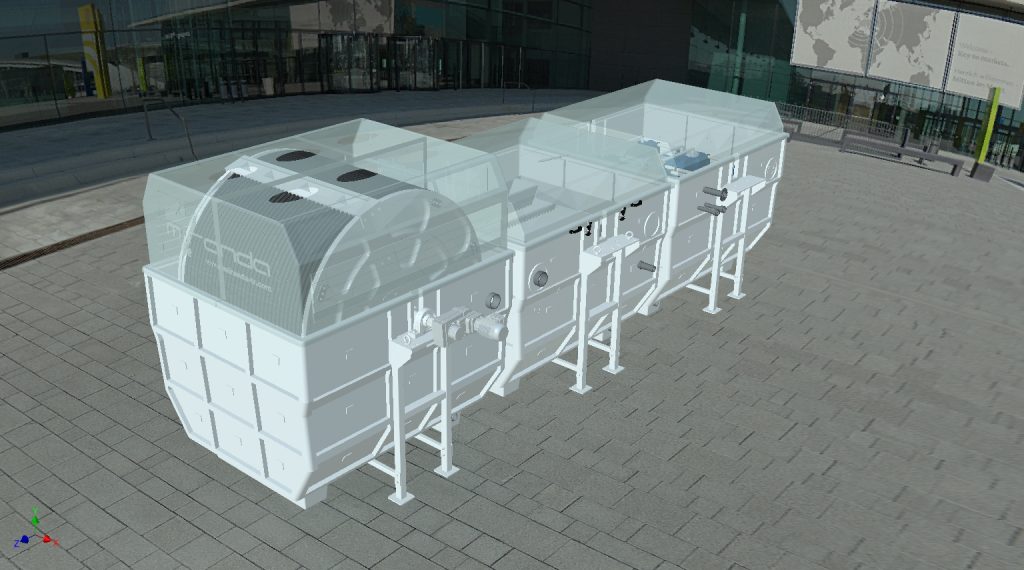 Miracem Can Integrate With Other Systems
Miracem can be used as a singular product or be combined with the added benefit of increased organic treatment capacity of Miranda's widely acclaimed Miracell Wastewater Treatment systems which operate with rotating biological contactor technology enhanced with patented innovative features of Miranda.
Thanks to its modular design, Miracell® is the only package wastewater system which has the ability to lower its capacity in times of lower flow rates via bypassing unused compartments and routing the wastewater to the last modular unit in order to converse valuable energy. Because of its modularity, Miracell® can also be easily transported in the event the operation is relocated.
An Innovative New Product Alternative To Septic Tanks
Miranda's experienced engineering team was able to assess the requirements of the industry with a whole new product approach and following a careful research and development effort along with innovative engineering effort, came up with an innovative new product in a durable casing which can be carried from one location to the other and combine a scalable capacity that can be offered to households for residential use among other applications.  For households and remote communities which do not have access to local sewer facilities, it offers a unique alternative with many advantages over and above the septic tanks which are commonly found in many remote or satellite residential applications. In such an application, following advantages weigh heavily on the side of Miracem compared to conventional septic tanks; 
Easy plug and play installation,

Recycled water for landscape or irrigation use instead of discharge into a leach field,

Long durable Life,

Aesthetic looks,

State of the art innovative technology,

Self cleaning filtration process.

Minimal area requirement compared to other treatment systems and especially septic tanks.

Easy operation and maintenance,

No need for a leach field which results in reduced lot sizes for the benefit of developers and homeowners

Effectively filters all suspended solids, pathogens and foreign matter.

Competitive pricing.
Miracem is the product for your needs requiring water treatment and filtration for;
Seawater, 

Fresh water, 

Wastewater.
Compared to a traditional biological wastewater treatment approach which requires a biological treatment stage, a settlement tank, sand filtration and ultrafiltration phases for recycled water applications, Miracem combines all the phases in one compact, modular unit. Miracem is offered in varying standardized capacities and come in the following pre-packaged modular units;
40-160 m3/day in one standardized Miracell module to multiple combined modules up to 6000 m3/day 
In customized applications, non-standard built to order capacities of 10-40 m3/day can be designed and priced for smaller customer application requirements.
For temporary camps and sites, Miracem can be the ideal water treatment application when offered built in plug and play trailers. In such a fashion, trailer housing the Miracem treatment system can be moved by a truck to the desired location and be easily operable in a short time by utilizing the plug and play design of the system. When the need ceases to exist, trailer can be moved to a new location or be warehoused for future uses.
Contact Us To Get A Customized System Cost For Your Needs