Sequential Batch Reactor (SBR)
System is operated in a sequential batch reactor mode which eliminates all the inefficiencies of the continuous processes. A batch reactor is a perfect reactor, which ensures 100% treatment. The complete process takes place in a single reactor, within which all biological treatment steps take place sequentially.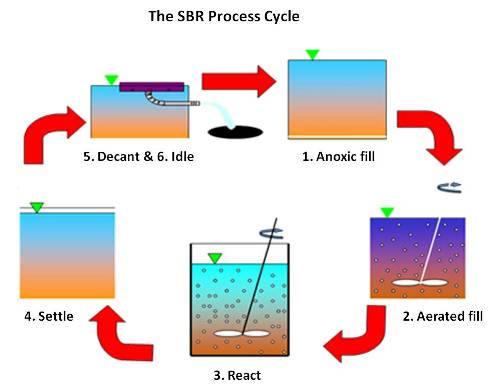 The complete biological operation is divided into cycles. Each cycle is of 4 – 6 hrs duration, during which all treatment steps take place. 
Explanation of cyclic operation: A basic cycle comprises: 
• Fill-Aeration (F/A) 
• Settlement (S) 
• Decanting-Idle (D/I) 
Wastewater treatment system units will be as follows; 
– Primary sedimentation & Equalization tank 
– SBR tank 
– Control panel ( compact with SBR ) 
– Disinfection Unit ( Chlorine Dosage )
– Sludge drying bed